Sauder MBA at UBC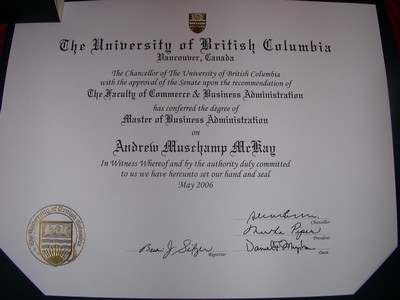 My time as an MBA student at the Sauder School of Business was quite simply the worst experience of my life. I haven't recovered, I doubt I ever will. Despite supposedly being one of the top students in the program and always going out of my way to help my MBA classmates, some of them decided to deceive me, to use me, and to deliberately, callously and repeatedly hurt me.
It is probably still the official position of the Sauder School of Business and the University of British Columbia that I must be lying. Perhaps the powers that be should check my health records, or my employment records, or my back account since March 17th, 2005, and then look me in the eye and tell me again how I haven't been negatively affected.
This page used to do well for terms like "Sauder MBA" or "UBC MBA" or "Sauder MBA blog" in search engines and presumeably people from all over the world read it. To put my experience in the appropriate terminology, I have realized a negative return on my investment of time, effort, and money in the Sauder MBA program and in helping my MBA classmates. The NPV is negative, my whole Sauder MBA experience was overwhelmingly, painfully, soul-scarringly negative.
Words and Images © Andrew "Muskie" McKay.
Last Updated: