Music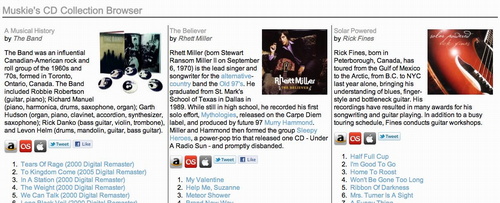 I like music, a lot. Nietzsche said:
"Without music, life would be a mistake."
Music has helped me get through some tough times, but it also can lead you astray as not every songwriter makes the best decisions in his or her own life.
Although I've bought 100's of CDs, tapes, and LPs, even 45s, music today is increasingly digital. I spent a lot of time and effort getting my home stereo to work the way I want. This involves a dedicated music server running iTunes because I'm a Mac guy. I've also taken to using Last.fm and hope to take even greater advantage of that service in the future. I've also been building various music mashups such as my CD Cover Gallery or another dedicated to my favourite songs.
I've ripped most of the songs in my CD collection but I definitely haven't scrobbled them all. One day I hope to convert some of the analog music sources I have into MP3s or some other digital format. Using the iTunes Music Store I've bought up a number of tracks I used to have on cassette or 45 that I wanted to use on for one of my legendary mixes.
The Internet caused a lot of problems for the music biz, but not from me, I support all the artists I admire financially by buying their music, going to their concerts, and even buying their merch, particulary t-shirts.
More music on Muschamp.ca