Return of the Musk
June 27, 2004
It's like "Return of the Jedi" but without all the Ewoks.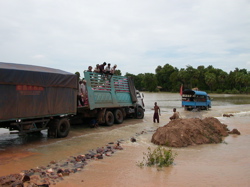 So I'm back in sunny Deep Bay British Columbia, on my Mac, which I've been trying to whip into shape, the address book still needs some additions, consider yourself part of the lucky 49. I'm also rating the songs in my iTunes library and will begin updating my website so stay tuned for that.
While in Asia for the last six months I took hundreds of photos some of which will find their way on to my website. Sorting and cropping them will take some effort, I even bought a special edition of Mac World for some insight into this though I seem to do everything by hand... I did register my copy of GraphicConverter so I will be using it more.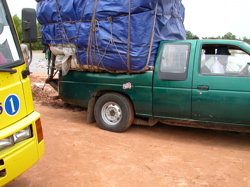 As part of my trip home I took three planes in three days. That is a fair amount of flying for someone from Deep Bay. I still am suffering some jet lag though I've been on Canada time for three days now.
While I was briefly in Vancouver I bought a bunch of books and inquired about a student lone as well as visiting UBC briefly. I still need a place to live in August, housing sent me an email while I was in Cambodia saying I have no chance. I will have to look into off campus housing, which was my plan anyway.
In my last email I bitched about Microsoft and Bangkok. Just to reiterate don't take a Tuk Tuk especially when the words "Thai Fashion" are mentioned, that was by far my worst experience in South East Asia. In this email I'll quickly summarise some events from my time in Cambodia. Here is the following checklist for anyone planning to travel to Cambodia soon:
12 Hour bus ride down dirt roads in a torrential down pour [check]
45 min. walk with backpack at night to where you actually want to stay [check]
witness moto crashing into pedal bike [check]
witness moto crashing into car [check]
distinctive sunburn due to riding on the back of a moto [check]
witness moto driver make a left into the wrong lane, in front of an SUV, while riding one handed and trying to answer his cellphone from back of said moto, twice [check]
have flat tire on moto miles from anything resembling civilization [check]
road blocked due to any or all of: broken down truck, overloaded truck, flooding, washed away road, unfinished bridge, general confusion [check]
book ticket on an airline that goes out of business [check]
stay in a brothel [check]
diarrhoea [check]
moto driver offers you "boom boom" and/or "ganja" [check]
listen to aging Westerners lament the decline of the sex tourist trade in various locations such as Manila [check]
Return to email collection
.
Words and Images © Andrew "Muskie" McKay.
Last Updated: