Monitoring Search Engine Performance
This article is a little dated, I suggest you read my more recent posts in the SEO archive of my blog. A lot of what I said below is probably still true, but social media plays a larger part in search engine optimization than it did in 2006.
Previously I listed some keywords and phrases that I decided to monitor which were related to a subdomain I have online concerned with a hobby that I don't really actively participate in anymore. In addition to the search terms I checked last time I've added "Deathguard" as I've decided I should endeavour to rank a little higher for that term. All these searches were performed on July 6th, 2006 from Deep Bay British Columbia.
Updated on October 9th, 2013 as a lot has changed in Google in the last seven years, but I still do well for most of these keywords, though going forward people who do not pay will not discover which actual keywords send them traffic in Google. One of the biggest tools created in the last seven years was Google Webmaster Tools, but other companies provide additional information such as Moz, keeping up with what the search engines are doing is now a full time job. Rich snippets seem to have become all the rage in the last few years.
| Keyword | Google Ranking | Yahoo Ranking | MSN Ranking |
| --- | --- | --- | --- |
| Plaguemarine | 3 | 2 | 1 |
| Plague Marine | 16 | 25 | 12 |
| Plaguemarines | 1 | 2 | 7 |
| Plague Marines | 1 | 37 | 2 |
| Chaos Space Marine | 9 | 37 | 9 |
| Chaos Space Marines | 7 | 100+ | 33 |
| Nurgle | 1 | 10 | 4 |
| Deathguard | 10 | 51 | 29 |
My lack of updates to nurgle.muschamp.ca combined with the ever increasing size of the Internet has resulted in the rankings of my pages decreasing for a number of keywords. This shouldn't come as a surprise and when you were previously ranked first there is no where to go but down. Although I've ceased blogging as frequently and mundanely, I still write about my hobbies occaisionally. I've recently totally redid my WordPress theme and taxonomy which is probably the biggest search engine optimization effort ever attempted on Muschamp.ca, though I didn't do it exclusively for SEO purposes, I also wanted to modernize my website and make it more social media friendly.
Monitoring Incoming Links
Since I have several subdomains that eat up an ever increasing amount of my bandwidth I decided to remove the www. prefix from the domain searches. This may have no effect but in all likelihood will result in significantly more pages indexed and incoming links. Maybe the bigger numbers will appear more impressive to the average reader. I've stopped checking Baidu, they seem to have removed my site from their index and I'm tired of struggling with websites in Chinese. I've added in Clusty to replace it.
Image Search Monitoring
All the way back in my original article I wrote about wanting to do better in Google Image search, eventually I did but not necessarily for the keywords I should have been targeting... Like everything to do with search engine optimization patience plays a large part. I've previously written how you could monitor how many images are indexed in Google for your domain and even figure out where you rank for a specific keyword, but I never made a table detailing the results of these queries, until now.
I eventually took down some of the images linked to below as I've since learned you should never blog about calves or post images like this online or you will get an unending stream of strange keyword referrals and disturbing emails/comments.
| | | |
| --- | --- | --- |
| Images in Google | 408 | |
| Images in Yahoo | 292 | |
| Google ranking for "nurgle" image | 27 | "Nurgle" image |
| Yahoo ranking for "nurgle" image | 6 | "Nurgle" image |
| Google ranking for "Plaguemarine" image | 3 | "Plaguemarine" image |
| Yahoo ranking for "Plaguemarine" image | 1 | "Plaguemarine" image |
| Google ranking for "Sauder MBA" image | 1 | "Sauder MBA" image |
| Yahoo ranking for "Sauder MBA" image | 1 | "Sauder MBA" image |
| Google ranking for "Tsinghua MBA" image | 3 | "Tsinghua MBA" image |
| Yahoo ranking for "Tsinghua MBA" image | 1 | "Tsinghua MBA" image |
| Google ranking for "her huge calves" image | 1 | "her huge calves" image |
| Yahoo ranking for "her huge calves" image | no results | |
| Google ranking for "massive calves" image | 1 | "massive calves" image |
| Yahoo ranking for "massive calves" image | - | |
Nurgle and Plaguemarine ranked completely different images in Google and Yahoo, the search engines used to be more unique but now Bing is what Yahoo uses to search the Internet. I've added another gallery of miniatures I painted. The graph shown is for traffic to Muschamp.ca for the week of June 29th to July 5th 2006. According to the graph 67% of my referrals come from Google. These referrals come from a wide variety of keywords. I've written about some of the odder phrases people have used in search engines to end up at Muschamp.ca.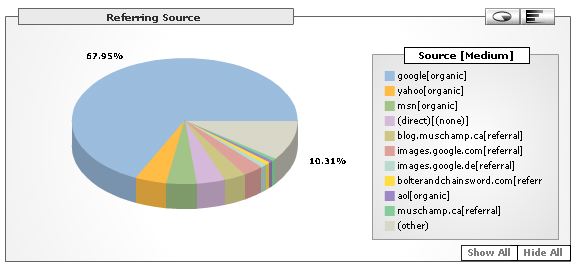 I eventually decided to write another follow up piece and years later Google decided to keep all their keyword referral information, making search engine optimization more of a guessing game unless you decide to pay for information from Google or a third party. Search engine optimization has always been more of a hobby for me but it became a career for many, few have followed the changes in search engine algorithms as long as I have, I still remember before there was Google and people switched from Yahoo to Altavista to find what they were looking for online.
I have written some more search engine optimization advice, a lot of it comes down to writing good content, but understanding structured meta data is also important especially as the Internet becomes more and more dominated by social media. I've also collected 8 years of Google Analytics into a few graphs and blog posts which may be of interest to people still reading this seven year old webpage on search engine optimization.
Words and Images © Andrew "Muskie" McKay.
Last Updated: