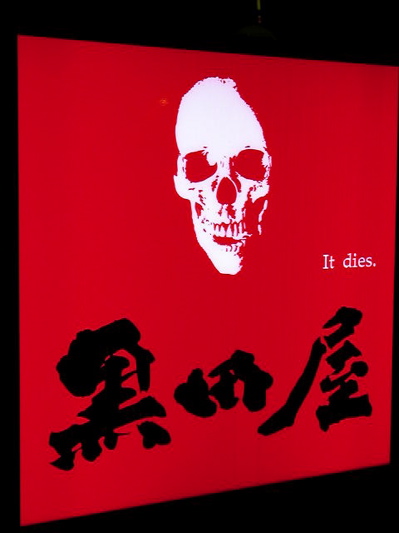 Spicey Tonkotsu Ramen
I don't know if this was the first place I had Tonkotsu Ramen 豚骨, but it is where I ate it most frequently. In addition to only serving one kind of broth, they also would serve it with a lot of extra spices, and the levels had really blunt names, at least that is what Mai told me. The extra spicey ramen was optional and I stuck with just the pork bone broth most of the time.
To get to this shop I had to bike a bit out of my way. What I would usually do is visit on the weekend, go to the e-Jungle internet cafe then after getting my fill of the internet I would bike here for a bowl of ramen and some draft beer. This place also lets you press fresh garlic into your ramen. Some places have seseame seeds you can add too, but I just like to add fresh garlic.
Here are some useful phrases and words while eating ramen
Nama Biru 生ビール draft beer
Shouyu しょうゆ soy sauce (broth)
Miso みそ bean curd (broth)
Shio 塩 salt (flavored broth)
Tonkotsu 豚骨 pork bone (broth)
Tsukemen つけめん broth in one bowl, noodles in the other
Chashumen チャシュメん extra meat
Oomori 大盛り extra big bowl
Ninniku にんにく garlic
Another aspect that made this ramen shop was the atmosphere. It might not have been the best ramen, though I liked it a lot, but it had the best atmosphere. It had a weird collection of action figures on display at the door. The walls were covered in Reggae albums and Reggae music was constantly playing. And every and I do mean every time I ever went there 2001 A Space Odessy was on the TV.
I also had a good understanding with the chef. We never talked much, he was always too busy but he always recognized me when I came in. A truen ramen chef mostly communicates in grunts and gestures. I think I was the only foreigner who frequented his shop. I was the only foreigner who frequented a lot of shops in Toyohashi.
A new source of regional ramen insight and photos in English has emerged.
<--Previous
Up
Next-->
Words and Images © Andrew "Muskie" McKay.
Last Updated: