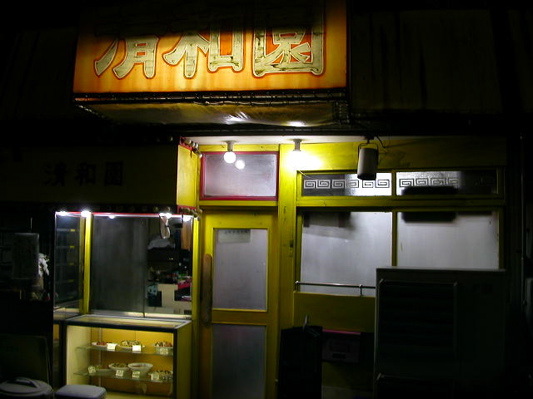 Chinese Food Restaurant
Although the Japanese have heavily modified ramen over the years including perfecting the instant variety, it is actually Chinese food. One of my other favorite things to eat besides ramen was fried rice. There is this cheap ramen shop near Toyohashi train station you could get a set with ramen and fried rice チャーハン. That places claim to fame was it was open on Wednesday. I never took a picture of it though...
I had to bike a bit out of my way to eat here too. It has everything you look for in a ramen shop, it's small, old, popular, and run down. I made sure to take this picture at night with the windows all steamed up as that is the way I remember it best, to quote Bob Dylan. It wasn't raining though, I went here with Glichelle one rainy night.
A new source of regional ramen insight and photos in English has emerged.
<--Previous
Up
Next-->
Words and Images © Andrew "Muskie" McKay.
Last Updated: