<--Previous
Up
Next-->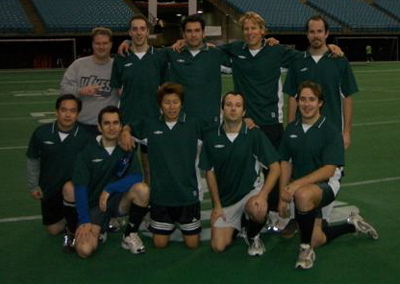 MBA Soccer Team: 36 Grand
This was just after our loss in the playoffs, in shootouts in BC Place. We had a four nil lead at the half and I got a hand on three of the penalty shots, we should have won. We weren't that good of a team, but we definitely choked and let this one slip away. I blame myself, I didn't even want to play, my knee can't take it anymore, even in net. It was also in the middle of core exam period.
Back Row (left to right)
Muskie McKay (Canada - BC)
Dwayne Clark (Canada - Ontario)
Mikio Matsuo (Canada/Japan - Ontario)
Christian Loeer (Germany)
Dave Sick (America)
Front Row (left to right)
John Huang (Taiwan)
Francois Lucas (France)
Gus Suga (Japan)
Gabi Kabazo (Isreal)
Troy Kelly (Canada - Quebec)
Anyone who couldn't be bothered to come to the playoff game doesn't deserved to be mentioned right Richard Wasylynchuk? I don't know what Daniel Robinson's and Roy Leon's excuses were either, probably something lame like it being exam week. I could hardly stand! Richard is a Canadian, Dan is from the UK and Roy hails from GuatEmala to round out our multinational squad. Frickin' Diversity!
Words and Images © Andrew "Muskie" McKay.
Last Updated: