<--Previous
Up
Next-->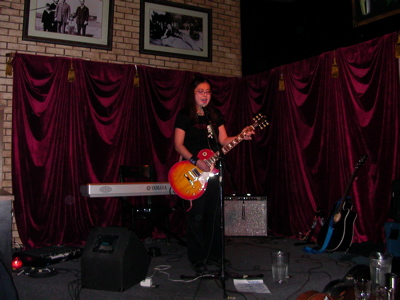 Marlene Lau solo performance
Marlene, like myself is a bit of an atypical MBA Candidate. She used to be in an all female rock band, that toured Canada from their home base of Calgary Alberta. I won't say anything else about Calgary Alberta... Her old band Honeyrocket put out one album comforting violence. She gave me a copy as well as some solo studio work she did for a local theatre company. I knew Marlene before I knew her music. Marlene Lau definitely has talent and has obviously put in a lot of time practising guitar and piano. I can barely find middle C on a keyboard and my guitar playing despite many years of fooling around is still flawed.
Here is how Marlene described the event before hand:

	Last Sunday, as I was strung out on a lot of cold/flu medication, I received 
	an email from Troy Kelly, representing Enterprize (the UBC MBA 
	Entrepreneurial Club), who invited me to play an acoustic solo set for the 
	club's fund raiser on the 21st.  I said "Sure", when what I really meant to 
	say was "What the hell?  I've never done anything like that before.  I've 
	either done studio work or played live w/ a rock band, where I neither sung 
	nor made any effort to maintain any dignity.  Nothing close to live, solo 
	and acoustic stuff.  I have neither material nor time to prepare."
	
	So!  I'm hoping that by sending this invitation out to you all that you 
	would be interested to come out and see me play a 1/2 hr. set of some sort 
	and also, that would make me motivated to find some material and pick up my 
	guitar and practice.  I'm thinking of doing a piano song too, as there will 
	be one there.  Troy Kelly's girlfriend will be headlining (the lovely and 
	talented Cat Ratusny).  And you'd be supporting an MBA club.
	
To be fair to Marlene, her voice was obviously not at its best due to the cold. I told her not to worry, she would have a very sympathetic and uncritical audience. I gave her a pink Hello Kitty guitar pick for luck, which she used for the performance, I don't know if it helped. I just thought it was very Marlene Lau and I discovered it in my guitar case that week, I had bought it in Japan and forgotten. It was suppose to be おみやげ but I didn't really have anyone in mind except maybe Owen... He doesn't even really play guitar, Marlene put it to immediate use so I guess she appreciated it.
She wouldn't tell me what tuning her acoustic guitar was in. I'm not overly sophisticated I stick to standard tuning, but I've seen a lot of concerts so I've become pretty observant. Eventually I got into a really deep musical discussion with her friend Steve. Marlene and I have never had a deep musical discussion... At the end of the night I told her my favorite song of her set was "Post Love Song". She said "That's my saddest song." What can I say I have an affinity for sad songs. Over the course of my studies at Sauder I became a big fan of Marlene Lau, the person. I wish she was kinder and more forgiving, now it is hard to think of her as anything but vendictive and spiteful. She told me once she was stubborn and held grudges...
She wasn't the person I thought she was.
She was in a band called Kill Matilda last I heard. I ran into her bandmate once on a bus... Marlene and my Sauder MBA classmates are no longer part of my life. They disappointed me to say the least...
Words and Images © Andrew "Muskie" McKay.
Last Updated: