A Chinese Thanksgiving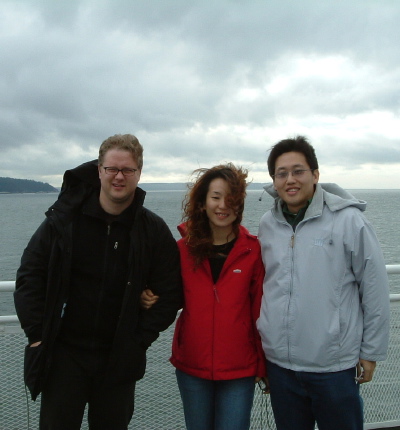 Pictured are myself, Anni Cao, and Andrew Kuo. Chi-wei Wang took this picture, I thought there was one of all four of us, but apparently not.
During the core my project one team consisted of Paula Castellon, Andrew Kuo, Chi-Wei Wang, Mary Mei, and myself. Besides the mandatory engineer, our team consisted of 66% ESL Chinese students. Many teams had difficulties between the native English speakers and apparently the multitudes of Chinese MBA students at Sauder. This was especially ironic as project one concerned diversity. Our team was perhaps not the best, but we stuck together and were among the most Chinese.
As part of general team building and because I was pretty sure even Andrew who had lived in Canada for a number of years had not experienced it, I invited my entire team to my mother's house in Deep Bay for Thanksgiving. Mary and Paula have young families so chose instead to stay at home. I extended the offer and eventually was besieged by a small army of Chinese classmates wishing to go. Although we could have probably fed and housed them all, getting them all to Deep Bay was more problematic, so in the end only Anni Cao, from outside the team, was able to come. I'm not sure what the selection criteria was.
Although as you can see in the picture, the weather wasn't exactly glorious on the long weekend, Thanksgiving dinner was good. Though going all the way to Deep Bay for one night especially in the middle of the core was a bit stressful in and of itself. We spent the ferry ride back working on the dreaded statistics assignment. Also on that weekend I installed a wireless network at Deep Bay using my old Power Mac G4 as a basestation. Alas the bandwidth coming into the house is very limited. I also introduced my Chinese classmates to one of the great movies of all time, The Princess Bride. Anni fell asleep...
Anni in particular became a big convert to my Nan's baking. She enjoyed sampling both the Blackberry and Apple pies that are a McKay Thanksgiving fixture. She also revised an old tradition of my dad's of having pie for breakfast. This also turned out to be the last Thanksgiving for my pop.
I later arranged for Anni to get to try my other Grandmother's shortbread, which is a Christmas fixture. As I delivered this to Sauder they were enjoyed by many, apparently Marlene Lau in particular had more than her share. Especially when you consider they were all intended for Anni. My personal favourite baked good is of course butter tarts but unless Anni or Marlene pilgrimage to Vancouver Island they are unlikely to get to sample them.
Before some recent devastating events in my personal life, there was talk of having an MBA BarBQ at Deep Bay. Today the weather is spectacular, we just bought a new BarBQ, the house has three bars built into it, including a deck bar, an ample supply of whiskey, I had secured the services of a bartender and possibly a chef. Maybe it will still happen sometime in the summer, but with the way things have been going I doubt it. With real estate prices like they are, my mom is increasingly talking of selling the house.
Return to my
Sauder MBA Photo Gallery
.
Words and Images © Andrew "Muskie" McKay.
Last Updated: